Workplace Conflict Resolution Level 1 (WCR-1)
Participants acquire skills that build confidence to effectively deal with irrational, angry or hostile people both internal and external to the workplace.
With a clear understanding of how behaviors escalate and how to safely respond to those behaviors, employees become part of a solution rather than a contributing factor
to the chaos of crisis situations. Our clients report that conflict resolution
training increases morale and productivity in their workplace, enabling their staff to focus on their core competencies. This results in much lower employee turnover.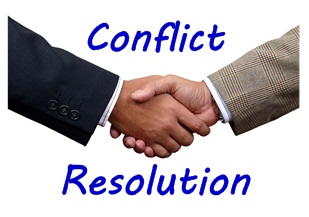 Workplace Conflict Resolution Level 2 (WCR-2)
Learn to protect yourself, physically and your business, legally. The ultimate goal of every disruptive or hostile situation is tension reduction. In WCR-2, participants expand their repertoire of verbal skills and learn to cultivate what we call 'tactical civility'. This learned quality maintains calm in the centre of emotional storms, projects empathy, and sets clear boundaries in the face of belligerence. The WCR-2 program expands upon the scenario-based verbal de-escalation training taught in WCR-1 and introduces the fundamentals of physical self-protection. The perception of excessively forceful responses towards aggressive individuals can cost your operation both its reputation and its income. WCR-2 gives participants the skills to ensure they win both battles.